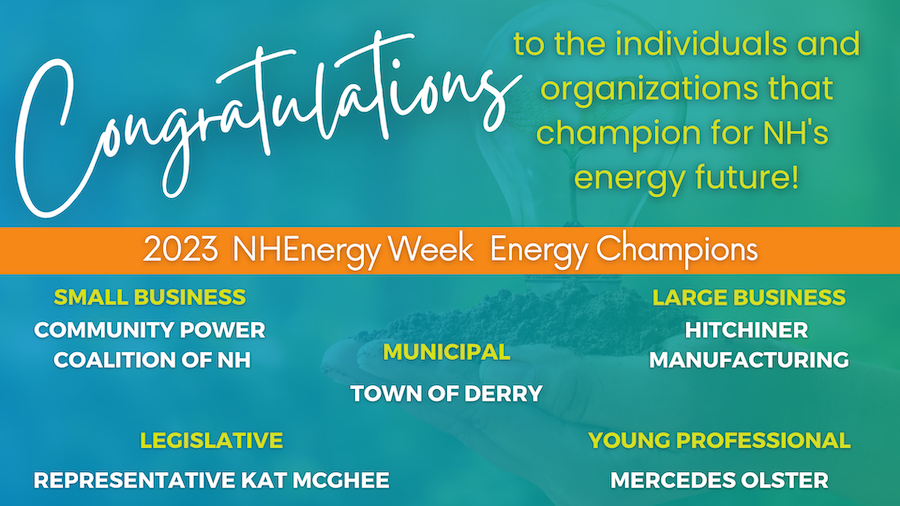 The Energy Champion Awards recognize leaders and organizations advancing New Hampshire's energy goals. Honoring individuals and entities that make exceptional contributions that champion for the Granite State's energy future, the awards aim to motivate and inspire others. Nominate a peer, colleague, for profit or non-profit organization, or agency partner. Self nominations are also encouraged.
Please note: Past winners are not eligible to win again. View past winners below.
Nominations for the various Energy Champion Award categories closed on Friday, April 14, 2023. A group of judges will determine the 2023 NH Energy Week Champions, to be announced on Friday, May 5, 2023 at the in-person 'Powering NH's Energy Future', energy innovation and awards event.
The five award categories for 2023 are:
LARGE BUSINESS ENERGY CHAMPION:  for-profit or non-profit organization (with over 100 employees) that demonstrates excellence in the energy industry in New Hampshire. Award sponsored by: Worthen Industries
MUNICIPAL ENERGY CHAMPION: A municipality committed to sustainable energy practices and advocating for energy-saving upgrades to municipal facilities.
LEGISLATIVE ENERGY CHAMPION: An individual who demonstrates leadership in the transition to a clean energy future. Award sponsored by: TC Energy
YOUNG PROFESSIONAL ENERGY CHAMPION (new for 2023): An individual (age 40 and under) who have made exceptional accomplishments in energy. This could be the development of an innovative project, a socially impactful intervention, or an initiative that has a significant impact on the energy space. Award sponsored by: Orsted

Past Energy Champion Award Recipients: